The Benefit Breakfast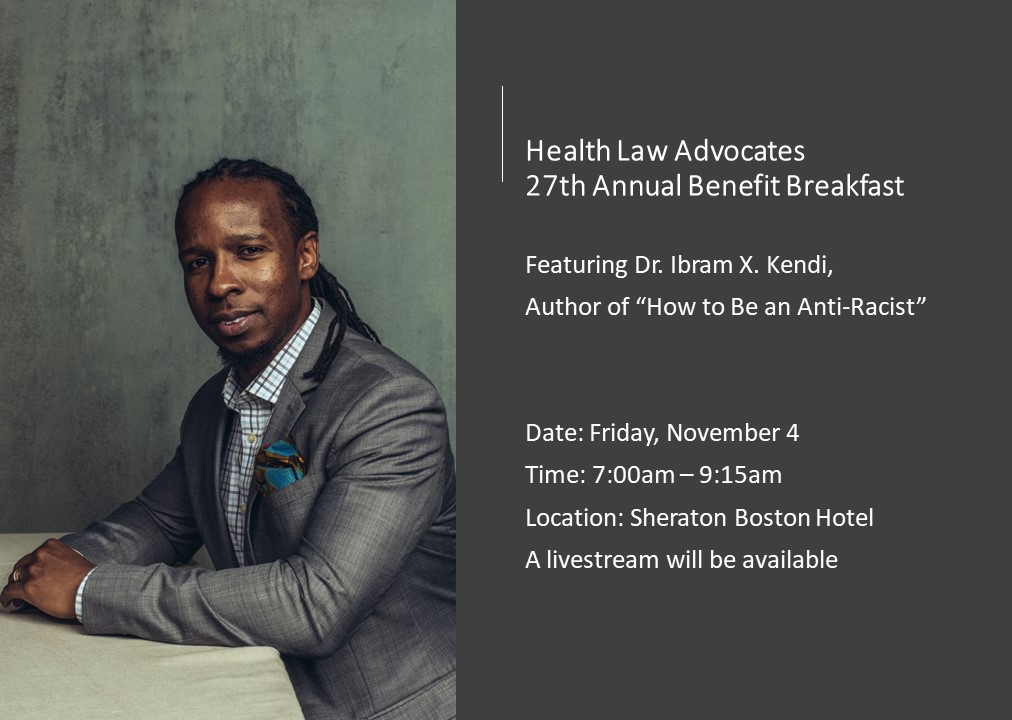 About the Breakfast
Health Law Advocates' Annual Benefit Breakfast is the primary source of corporate and individual gifts for HLA. Over the years, this event has enabled us to help 15,000+ families and individuals access health care. The HLA Breakfast team works with hundreds of partners each year and is happy to a tailor any individual or corporate package to fit your company culture and needs.
For questions about the event or sponsorships, please contact Jennifer Javier, Manager of External Engagement, at jjavier@hla-inc.org or 617.275.2881.
To sponsor, donate, or purchase tickets, click here. For information on our Sponsor Levels, see below: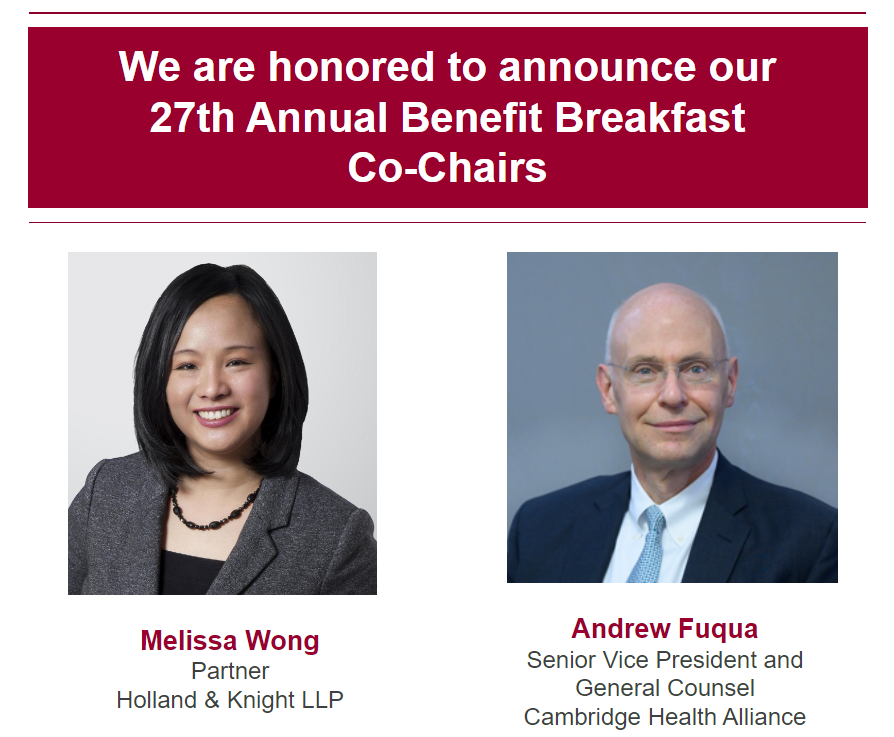 Thank You to Our Early Sponsors!
Platinum










Emerald




Patron
Stephen Rosenfeld and Margot Botsford
Thomas & Meredith Lea Sobol
Champion

Kate & Phil Villers

Gold
















Silver

































Bronze
AARP Massachusetts
Ankner & Levy


ArentFox Schiff
Association for Behavioral Healthcare

Barrett, Harrell & Ferrer LLC

Bay Cove Human Services
Baystate Health

Biogen

Boston Health Care for the Homeless Program
Boston University School Of Public Health -
Center for Health Law, Ethics, and Human Rights
Brookline Bank
Cambridge Health Alliance
CareQuest Institute for Oral Health
Choate, Hall & Stewart LLP

Commonwealth Medicine/UMass Chan Medical School

Community Care Cooperative
Dana-Farber Cancer Institute


Delta Dental of Massachusetts

Epstein Becker Green, P.C.

Fallon Health
Gardiner Howland Shaw Foundation
Hemenway & Barnes

Hinckley Allen
Hooper, Lundy & Bookman

Husch Blackwell
Krokidas & Bluestein LLP
Locke Lord
Margolis, Bloom & D'Agostino
Massachusetts League of Community Health Centers
Massachusetts Medical Society

McDermott Will & Emery LLP

Northeastern University School of Law, Center for Health Policy and Law

Pro EMS

Robinson + Cole

The Village Bank

Todd & Weld LLP
UMass Memorial Health Care
Verrill
Vinfen
Waterstone Properties
Whittier Street Health Center
Benefactor
Thomas Barker
Brian Carey & Erin Graves
Andrew Dreyfus
Andrew Fuqua
Julia Hesse
Advocate
Michael Blau & Ann Muschett

Ellen A. Bruce & Richard Segan
Deborah Daccord

Charles & Nancy Donahue



Matt Selig & Katie Annas
Lauren Smith

Partner
Neil Aresty

Michael & Kitty Dukakis

Joshua Greenberg & Kate Dulit

Kate & Nima Eshghi
Lachlan Forrow


Richard & Liz Frank

Katherine Gross
Sylvia Hammer

Jamie Katz

Harold Leach & Mela Lew
Rick Lowe

Myron Miller

Joyce A. Murphy

Dean Richlin

Jon Rotenberg

Arlene Schuler

Karen Schwartzman & Bob Melia

Shelley Selig

Alexandra Shalom
Michael Tuteur

Paul & Wilhelmina van der Wansem
Ellen and Ken Weinstein
Amy Weinstock and Michael Coln

Melissa Wong

Michael Zak