Many children in, or at risk of entering, our juvenile justice system end up there because of unmet mental health needs. HLA's Mental Health Advocacy Program for Kids (MHAP for Kids) has a proven track record of significantly improving the lives of these children and their families while reducing unnecessary costs for the state.
Is your child/student/client experiencing difficulty accessing mental health services?
Give us a call at 617.275.2919 for an intake.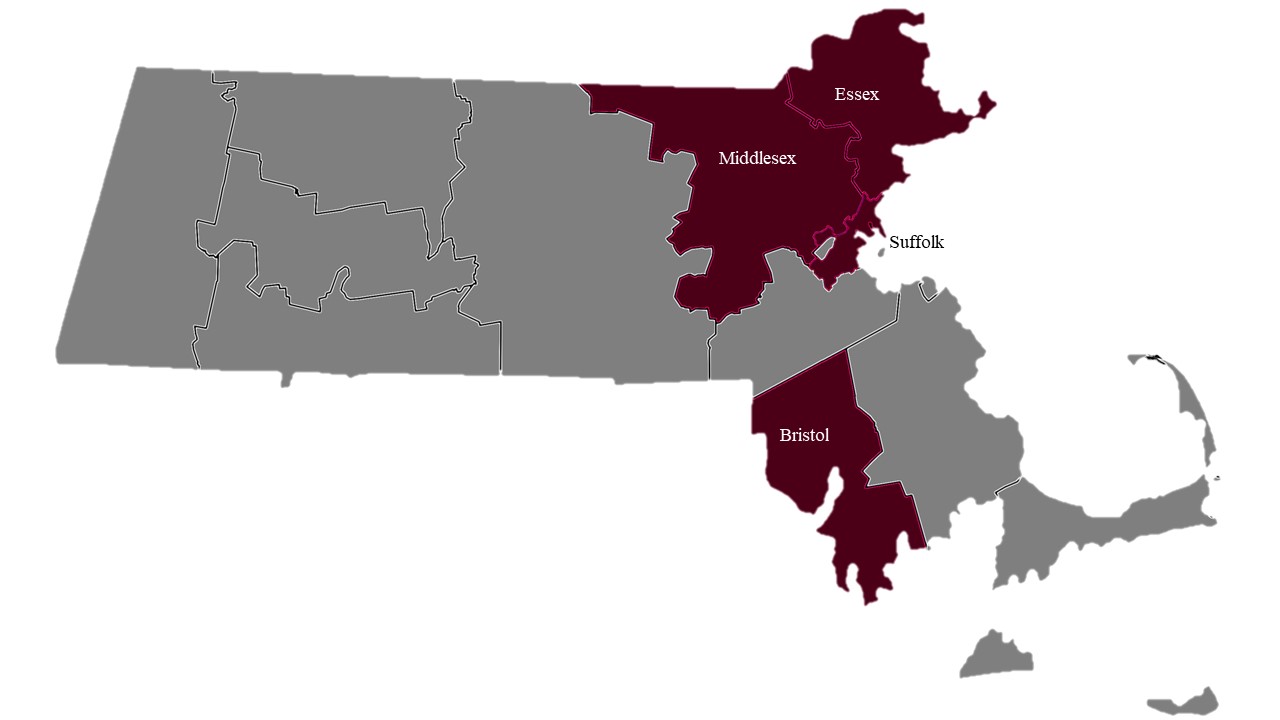 MHAP for Kids embeds a specially-trained attorney in four of the state's Family Resource Centers (FRCs) located in Boston (Roslindale), Lowell, Lynn, and New Bedford. Each of the four MHAP for Kids sites serve children throughout the county in which they are each located: Suffolk, Middlesex, Essex, and Bristol (see map above). HLA is working to expand MHAP for Kids statewide.
What services does MHAP for Kids provide?
Begin or improve special education services
Secure and/or coordinate community-based mental health services
Collaborate with Dept. of Children and Families, Dept. of Mental Health, and Dept. of Developmental Services
Advocate for general education accommodations
Assist with health insurance coverage
Proven Results
Boston University's School of Public Health conducted a 2-year study on the efficacy of MHAP for Kids. Some key highlights:
Improved school attendance
Decreased use of emergency mental health services by children
Decreased inpatient hospitalizations of children
Decreased children's stays in residential facilities
Decreased children's stays in emergency shelters
Significantly improved overall mental health of children
Significantly reduced parental rates of depression
Significantly decreased parental stress
Read the full report here.
Watch Tristan's Story:
Tristan's Story from Tira Khan, Sugarhouse Media on Vimeo.
MHAP for Kids is generously supported by grants from The Peter and Elizabeth C. Tower Foundation, the Fish Family Foundation, the Cabot Family Charitable Trust, the Ludcke Foundation, the Beveridge Family Foundation, Gardiner Howland Shaw Foundation, the Charles H. Hall Foundation, and the Bennett Family Foundation.
Funding for MHAP for Kids is also provided by the Massachusetts Department of Children and Families, the Massachusetts Attorney General's Office, the Massachusetts Health Policy Commission, and the Massachusetts Probation Service. Generous support for this work has also been provided by Boston Children's Hospital and Hagens Berman Sobol Shapiro LLP and many more corporate and individual sponsors.